The milky white color is so pure that it just beckons you to come explore it.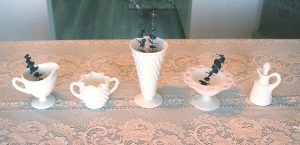 Nothing excites me more than eyeing a beautiful display of milk glass in an antique store. I love decorating with antique milk glass. The simple white glass looks stunning against any backdrop and each piece is unique.
But what is milk glass exactly and where did it come from? This blog post will give you some background on milk glass and the different types that you will find at antique stores as well as how you can incorporate milk glass into your home as decor pieces!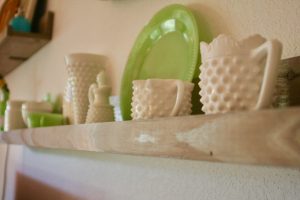 This opaque glass originated in Venice in the 16th century.
Not only does it come in white but in pink, blue, yellow, and brown as well. The white color that is most loved today became popular during the Victorian era and the Victorians are the ones who coined the term 'milk glass'. Companies such as Westmoreland, Fenton, and Anchor Hocking are most noted for producing this popular glass, making it in abundance!
How to tell if it's a true antique.
As you are perusing milk glass and if you want to know if it is a genuine antique, meaning 1960's and prior, hold it up to the light and look for the "Ring of Fire" imprint. It is characterized by iridescent reds, blues and greens. Here is what the "Ring of Fire" looks like.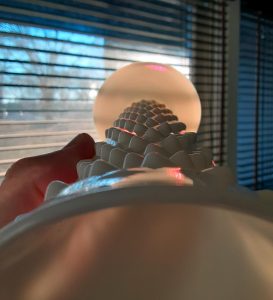 Decorating With Antique Milk Glass
Below are some types of milk glass that you can find in antique and thrift stores:
Vases
Large and small vases can be found for less than $10 and come in a variety of styles like hobnail or 'Stars and Bars'. Cute vessels like these add a beautiful vintage touch to your home. Try clustering them on a kitchen or dining table for a pretty centerpiece or adding one with faux greenery in it to your bathroom counter!
Banana Stands
The Victorians were known for wanting to have a dish for everything, hence a banana stand. You could use this type of milk glass for just that; to hold bananas or other fruits.  Banana stands are versatile for other purposes as well such as to hold keys on an entryway table or as a really pretty and simple centerpiece on a table.
Pitchers
Milk glass pitchers can be incorporated into your home in many different ways. You can use them as a vase to hold fresh flowers on the kitchen table, as a pen holder on a desk, as a kitchen utensil holder, or as a decorative piece on a shelf.
Cake Stands
These are quite popular right now with milk glass collectors. You can find cake stands with wavy, lacy, and hobnail edges, making them versatile for all decor styles. Cake stands are good pieces for layering or adding height to shelf displays.
Punch Bowls
These were popular for parties in the 1960's. They are a fun addition to any milk glass collection, especially if you can find a set that has all 12 cups intact.
Cruets
These little pieces were made to hold oil and vinegar during the Victorian era. I have a hobnail pourer in my collection that is one of my favorites and it is displayed on a shelf with milk glass bowls. They make beautiful display pieces on a side table or countertop.
Plates
Milk glass dinnerware was never produced, however, plates were used as either serving platters or as home decor. A pretty way to display milk glass plates is by creating a gallery wall using plate hangers and mixing in other colored antique plates such as Flow Blue or Jadeite!
Covered Dishes
These include decorative sugar bowls and candy dishes. These are also very versatile pieces for your  space. They can be used in the kitchen to hold spices or loose leaf teas or use them as a holder for jewelry, such as to hold rings by the kitchen sink!
Milk glass, due to its white coloring, blends well with any style that you already have in your home.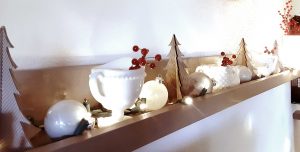 It's vintage appearance pairs well with modern decor, therefore making it an all-around beautiful antique to have in your home. It's so versatile that I used it in my Christmas decor! I hope this inspires you to seek out some milk glass of your own. Each piece is a treasure and will add such joy to your space.

I hope you found inspiration here today on decorating with antique milk glass! Let me know in the comments below how you would display milk glass.
Read more on inspiration for your home.