Displaying old copper teapots in your home makes it feel elegant, stately, and fancy.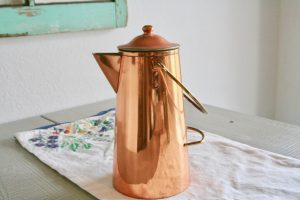 The origin of the first teapot is believed to have roots in Europe, specifically England. The design of the first teapot was most likely influenced by a Chinese wine pourer that was imported to Europe during the mid-1600's. Around that same time, tea debuted in Europe in the mid-17th century and was boiled in large pots over an open flame. To make the process of boiling tea more accessible and convenient, the teapot was invented.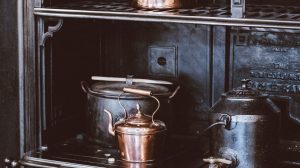 Early on, tea was a luxury item that was available only to the wealthy, so early tea kettles reflected their owners' wealth and were typically made of silver.
Soon after tea being introduced, the East India Tea Company instructed Chinese artists to create tea pots out of china, forming them to the tastes of the European market. These tea pots displayed designs that were adapted from European artists.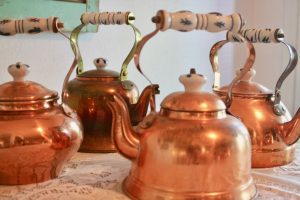 When the price of tea dropped, tea pots switched from being exclusively for the wealthy to being made for the common folk as well. As an affordable option for all, most tea pots were made of copper which was inexpensive and also a great conductor of heat. Typically, these types of copper kettles would have a tin inside, a gooseneck spout, brass lid and a hinged handle. You can find copper tea pots today ranging in price from $15-over $100. Factors for pricing include the maker, condition, size, and detailing like finials or porcelain handles.
Copper teapots are fairly easy to find in antique stores and make a bold statement in any home.
Metal decor is helpful in adding character to spaces that feel too bare. Below are some ways on displaying copper teapots that you can try in your space:
as a large collection going across the top of kitchen cabinets
as a pretty vase for fresh flowers or greenery
set it on the stove, regardless if you use it or not, for a touch of vintage to your kitchen
group a variety of teapots on your front porch and use them as planters for various flowers and greenery (make sure to drill little holes in the bottom first for drainage). You can do this for all seasons and holidays!
you can turn it into a lamp by purchasing a lamp kit, like this one on Amazon by CreativeHobbies
turn it into a fountain for your outdoor area! Click here for a YouTube video on how to do it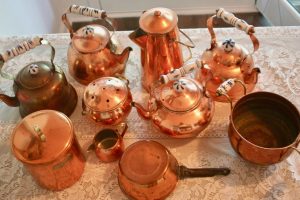 Copper teapots come in a variety of shades, sizes and handle options so you shouldn't have any trouble finding one that you love. By incorporating copper teapots into your home, you are adding a touch of vintage elegance into spaces that lack character. You can experiment with putting them in different areas of your home or using them in different ways until you find what you like. Get creative and let joy lead you!

Let me know in the comments below if you have a copper teapot collection and how you display them!
Check out more inspiration for your home.